Touch me (I'm famous)
Homebrew game for the Nintendo DS.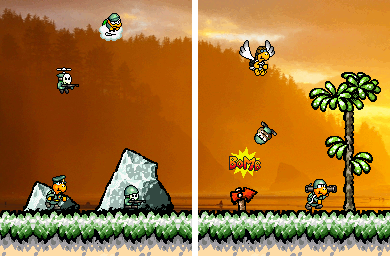 Touch me (I'm famous) is a mix between a shooting game and a rhythm game. The song heard during the game is a sample from Sweet euphemisms by Soso.
Download: TouchMe_nds.zip / TouchMe_gba.zip
Source: TouchMe_0.1_src.zip
How to play:
Hold the DS vertically. Shoot the enemies by tapping them with the stylus, but always by the rhythm: either on the beat (indicated by the flash), or on the back beat.